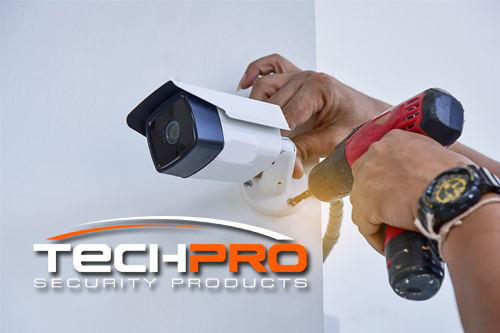 July 7, 2022 3:34 pm
Commercial CCTV Contractor
Any and every business should have proper security measures in place, to do this you'll need a Commercial CCTV Contractor like TechPro!
Security is the sense of protection and peace of mind people have when they don't feel they have to worry about threats such as theft, vandalism, property damage, trespassing, or even in some senses natural disasters and accidents. Security doesn't come on its own, it's a state of mind we have to work to achieve by employing the proper measures, or security measures, at our place of business. One of the more common security measures employed is an alarm system. While alarm systems are important as they help with the aftermath of potential theft, and can aid in alerting the authorities, they arent themselves a defensive measurement so much as a reactive one. You should always have an alarm system at your place of business, but on top of that, you'll need to have CCTV as well.
TechPro Security Products is a South Florida-based Commercial CCTV Contractor. We provide the equipment and installation of high-quality Security Camera systems, also known as Closed Circut Television or CCTV for short.
Security Camera systems are extremely important to any operation, especially a business. CCTV provides a way for you to actively track and monitor real-time events. This can be done by watching the monitor connected to your recorder. Or it can be done by using remote viewing, the ability to see your CCTV system's live feed from anywhere in the world using a PC or smartphone. All of our systems are capable of remote viewing.
CCTV works by utilizing cameras installed strategically at different points around a property. This is usually outside for perimeter inspection monitoring and protection, as well as indoors for safety and also for monitoring. These cameras are then connected to a recorder which keeps a digital record of all the video data over a period of time. this period varies based on several factors including the number of cameras you have installed as well as their quality or resolution, how often they record and at what framerate. This combined with how large a hard disk in the recorder will yield you a certain number of days of footage before the recorder begins to overwrite the oldest data.
With remote viewing, you can also download and play back your recorder's footage anytime, anywhere. There are many features and options available for CCTV that aid in developing your location's security profile. Features such as license plate capture, tripwire, and intrusion box, Pan tilt Zoom, Active deterrence, and more are all amazing features.
However, CCTV installation should only ever be done by an experience Commercial CCTV Contractor. That's why you should let the Pros handle it and call TechPro Security Products today if your south Florida business needs new or updated CCTV!
Call Techpro Security Products, an Avigilon Partner, today for more info, and to set up an appointment: 561.990.4168
More on Avigilon
Find us on: Facebook | Twitter | YouTube | LinkedIn
Tags: Access Control, affordable security systems south florida, avigilon, benefits of having a surveillance system, best home security system, best security camera for your business, best security company in South florida, Best Security System Installation Services In Boca Raton, Commercial CCTV Contractor, Home Security Camera Installation, home security systems, Infrared Security Cameras, installing security cameras, Neighborhood Security Camera Systems, Neighborhood Surveillance, Neighborhood Watch Cameras, Professional CCTV Camera Installation Companies Boca Raton, remote monitoring home security systems, security, Security Camera Installation Boca Raton, security camera installation in south florida, Security Camera Installations, security camera system, security camera systems, security system installation in miami


Categorised in: Commercial Security Camera Companies

This post was written by Joe Shopsin