March 5, 2019 1:25 pm
Most people are familiar enough with radar enforced speed cameras. They capture the details of cars and license plates after being triggered by a vehicle surpassing the speed the camera is set for capturing. However, a radar speed security camera isn't just for the authorities any longer. Now the radar enforced speed camera is being utilized by neighborhoods to increase security in the community.
Cars speeding in neighborhoods pose a threat to the residents in a community. Not only are they dangerous for kids crossing or playing in the streets, but they also can cause disruption to other traffic on the road. But how do you deter drivers from speeding in their vehicles when there are already traffic signs or, in some cases, speeds bumps already in place? This is where the radar speed security camera comes in.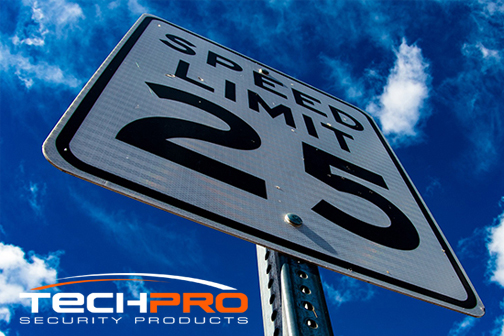 In the article below, I will examine what a radar speed security camera is used for and why it is a reasonable option for communities everywhere. We'll also examine the benefits of radar speed cameras along with the various applications they are commonly being used for. If you're interested in having a radar enforced speed camera installation in your neighborhood, be sure to get in touch with our professional security camera installers at TechPro Security Products soon.
What Is A Radar Speed Security Camera?
A radar speed security camera, also referred to as radar enforced speed cameras, monitor streets for speed infractions. Once a vehicle commits a speed infraction, the radar camera records the vehicle and retains the video evidence. This evidence can later be reviewed and analyzed to determine what punishment should be given to the vehicle's owner.
The resulting punishment could be anything from issuing a community warning to issuing a community ticket to turning the evidence over to the police for them to make an official determination. The radar cameras are used to reduce accidents and deter drivers from committing potentially dangerous infractions.
After capturing an infraction, the footage from a radar speed security camera is then sent directly to a security team member for analysis. They are then able to view the infraction, in real-time, and make the necessary determination on a situational basis. In addition, radar speed cameras are able to capture license plate information on top of the vehicle details, such as make, model, and color.
What Are Speed Enforced Cameras Used For?
Speed enforced cameras are used in communities to reduce dangerous driving practices. Every day, children playing or even walking on the sidewalk are put at risk by drivers that choose not to respect the posted speed limits. Moreover, driving over the speed limit poses a risk to other drivers sharing the road in addition to the pedestrians traveling on it.
Increasing residential road safety gives residents and families living inside the community a greater sense of peace and safety. Reducing the potential dangers and risks of these irresponsible drivers while helping to deter others from repeating those actions is the primary purpose or speed cameras.
A radar speed security camera also enables the community to gain important details for issuing warnings or even tickets to the perpetrators. Capturing license plate images in real-time further permits community security personnel to find the wrongdoer once they have left the confines of the community streets. It also gives security personnel the option to intervene in a more direct manner in the event the driver is in a location where that is possible.
Features of License Plate Capture & Radar Speed Cameras
The most obvious benefit of a radar speed security camera with license plate capture technology is the increased safety for the communities they are installed in. However, there are other benefits that license plate capture and radar speed cameras present. For instance, a license plate capture camera can also be doubly useful as a neighborhood security camera.
The features of radar enforced speed cameras are what make all of their benefits possible. The technologies that comprise a radar speed license plate capture camera involve some of the following:
Convenient, compact design

Powered directly or with solar energy

Digital images are immediately available and can be viewed in real-time

Advanced software for file storage, archiving, and processing

Data transfer via Wifi or cellular network

Custom image storage database sizing

Multiple lane coverage with speed limit range of 10 – 155 MPH

Offline image/data transfers

Open speed limit adjustment at all times

Real-time license plate capture monitoring

Day and nighttime monitoring

Police-grade technology

Easy to use with or without an operator

Supplements current neighborhood surveillance strategy
Interesting in learning more about the benefits of incorporating a radar speed security camera in your community? Contact us at TechPro Security Products. Radar enforced and license plate cameras are some of the more common advancements now being added to our custom security solutions. We will be happy to answer any questions you might have and will provide you with a free security assessment covering the installation of a radar speed security camera. Let us know how we can enhance your residential community security today!
Facebook | Twitter | Google+ | YouTube | LinkedIn
Radar Speed Security Camera
Tags: HOA Security Cameras, License Plate Camera, License Plate Capture Camera, Neighborhood Cameras, Radar Cameras, Radar Enforced Camera, Radar Speed Security Camera, TechPro Security


Categorised in: CCTV Articles

This post was written by Kyle Gorham