October 5, 2013 7:00 am
Leave your thoughts
It's your day care and all the essentials are in place. Your daycare is essential to so many guardians and you serve as an important staple in the community whose services are very important to the well-being of so many futures. So much is needed for your business to operate efficiently.
Your curriculum, structure and behavioral lessons. Crayons, Books and Toys. Milk, Snacks and Refrigerator. Paper, Computers, Employees and Desks. Water fountains, cubby holes, and rest rooms. Fire Alarms, Emergency Lights, and escape routes/strategies.
There's one more item that can be added to the list. An item easily overlooked but plays an important factor in everyone's safety. An easily implemented product that can bring peace of mind to your consumers, staff and yourself.
Security Cameras
I'm a Dad. I love the exuberance and innocently naïve a child's heart is. There's is a perspective that touches my soul and causes me to stop and rethink values in life. A child's blessed with this incredible innocence and I'd like to preserve that impeccable innocence of my child for as long as I can. As a dad, I worry in my absence from her. Especially when I leave her in the care with someone else.
In the wake of the Sandy Hook shootings, I reevaluated my child's school and after school daycare security measures. Needless to say, my child's school was in much improvement for security precautions, but I was impressed with the day cares equipment. The school recently held an advisory teacher/parent meeting. In the meeting we learned about many different security aspects the daycare had devised and implemented. They even showed us the layout of their surveillance system and what was covered. Great coverage of the parking lot with a movable camera called a PTZ. The playground was well covered with various shoots. They had one camera serving as an overview shoot and then a few others containing a much closer detailed look at the jungle gym, swings and sand box area. I'm very pleased with their efforts and the innovative features from the system they purchased. They also offer the parents the ability to access the classroom their child occupies along with the playground. They gave me an app for my smart phone and instructions on how to pull it up on a browser. I have a dedicated monitor on my desk at work that remotely displays these two cameras I'm allowed to access. I get to watch my baby play and interact with other children. A great feeling and aspect, Kudos to my daughter's daycare!
Reminisce
I remember my first day of school. Looking back on it, I smile and feel a tinge of tears tugging at my heart. In my reminiscence, I remember vividly not wanting to leave my mom. Of course her understanding the importance of getting me to attend my first day was a priority, a priority I wouldn't understand until I was older, so she devised a proposal.
My mom: Baby, if you go in you'll have a lot of fun.
Me: No mommy, I don't wanna go. I wanna stay with you mommy.
(I still remember the feel of tears in my eyes.)
My mom: I know sweetie but you have to go.
Me: Why, I don't want to. I wanna stay with you mommy.
My mom: I know honey, but this is your time to be a big boy now. Everyone else is in there, see.
(At this point she started to get me to succumb to reason. As soon as I looked inside the class and maybe even attempt to proceeding in, the thought of not being with my mother came back into play and anxiety once more took over.)
Me: No mommy. Please don't make me. I wanna stay with you. I love you mommy.
(I could see the ever begging tears of love glisten her eyes.)
My mom: Oh baby, mommy loves you so much. I would never lead you wrong. This is a fun place. You'll get to play with other kids and go to the playground.
(I started to be persuaded but I was still resistant to not having her with me)
Me: Will you come with me?
My mom: I can't sweetie. This is place is for children only.
Me: How long do I have to be here?
My mom: Till three?
Me: How long is that?
(She then pointed to the clock on the wall and described when the little hand goes completely around and stops on the numeral 3. As I grasped the concept of which way the hands moved, I then started to bargain with her.)
Me: Can you pick me up when it lands on the 9.
(She smiles, I love her smile)
My Mom: How about an hour earlier than 3. I'll come at 2.
Me: 10?
My mom: 1PM
Me: 11?
My mom: That's when you eat lunch baby. How about after you eat lunch, I'll come pick you up then.
Me: Okay. I'll be waiting for you mommy.
I was so excited with my negotiations. I thought I had won. I would make my mom happy by going into this strange place. Yes, I missed her. The feeling daunted me every second as I tried to grasp the concept of this place. There were a few moments I do remember I was a little more lax. Like playing with play dough and listening to a story. Finally we went to lunch. I was so excited. As soon as this was done, I would see my mom again. Lunch came and went though. My mom never showed. I was panicking a little. I looked at the clock thinking maybe somehow I missed her. Not quite fully understanding how "time" worked yet, I thought maybe it over lapsed and I was stuck here. I carefully watch this circular contraption with bold black numbers and three hands. Transfixed on the red constantly moving hand I soon became lost in thought. Nap time approached, lights dimmed and I soon fell asleep lost in my own fixation. When I awoke, my mom was there. I was once again complete.
As a parent myself now, I'm aware of the ever posing dangers found in this world. As I relive my childhood through baby's eyes, I understand the importance to keep this world and the society I live in, as safe as possible. The reality is that we all need to be ready to combat the ever increasing madness that tramples through the streets. These same streets eventually lead to our schools, shopping outlets, businesses and our homes. Being precautious and prepared is a far cry from being paranoid and over protective. My daughter's daycare gave me inspiration on what I can do. We practice scenarios of "What If" and the plan of action that ensues whether it could be fire, invasion, hurricane or floods. She knows how to situate and handle herself. I've also installed security cameras in my home. Now I enjoy the same benefits the daycare provided me, keeping an eye on my home in my absence. I receive email alerts with a snapshot of anything abnormal on my property. My vacations and work hours are spent more leisurely than concerned of what's happening. For any parent or care giver interested on what I've learned and used myself, I have compiled a list below.
The Famed Security Cameras that were used
My daughter's daycare used the following setup. It was really interesting to learn the capabilities and choices available.
Each classroom (11 total) contained an IPOD-EL1MPIR50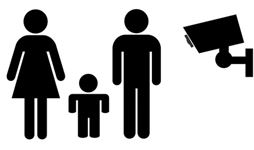 The parking lot contains (2) PTZ-EL700IR250L23
The playground is well covered with (1) IPVD-EL3MPIR for an overview and
(4) IPOB-EL2MPIR50L3312 focused in closer on crucial areas.
Everywhere else contains a VD-EF700IR100L2812D-W.
From my studies, they used a type of DVR that could harness a high definition 1080P resolution. They called it a Hybrid DVR. Now I wasn't able to obtain a model number but I did find these two: HYBDVR-LT016480 and a HYBDVR-FE016480.
After contacting the company that provided and installed the cameras for my daughter's day care center, I went a different route. I bought the following:
(6) IPOB-EL2MPIR50 for around the perimeter of my house.
(2) IPOD-EL1MPIR50 for my living room and garage.
(1) IPOF-EL1MPIR30-W for my convenience. I use this to travel from room to room for various reasons. It's kinda of cool with a built-in microphone and speaker. I can talk and listen to anyone in the room with this camera. To sum my entire system up, I purchased the
NVR-ELM-16 and a 16 PoE switch. It works rather well with my router, Linksys EA6500A and Motorola cable modem.
I hope my findings were useful. Until next time we meet, stay awesome.
Tags: cctv systems for day cares in delray beach, day cares in delray beach cctv systems, delray beach cctv systems for day cares


Categorised in: CCTV Articles

This post was written by Damon Delcoro