February 23, 2018 3:40 pm
Leave your thoughts
Access control systems are now a regular part of many different security and surveillance setups. They work in hand with many alarm systems and provide property owners a number of rewarding benefits. With modern access control equipment, you can control entry to and from your property, keep specific doors secure, and even remotely control your entire system. This diversity has enabled access control systems to become more and more common in commercial and business properties, private residences and home, banks and financial institutions, apartment and gated complexes, government buildings, and many more locations. For this reason, we provide South Florida installation services for all of these systems. If you are looking for a company to meet any of your access control systems Boca Raton FL needs, call us at TechPro Security. And check out our website for a better understanding of who we are and what we do by clicking here: TechPro Security.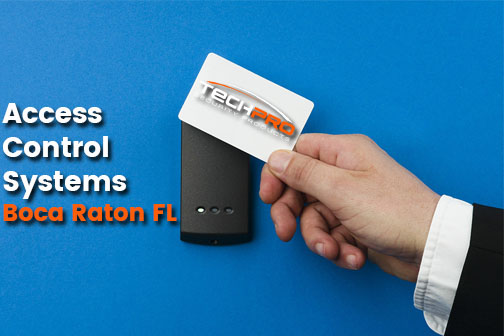 Access Control Systems Boca Raton FL | Things to Consider
The number of uses for access control systems is fairly large. There are unique features available for different systems and a variety of ways to permit or prevent access. There are, however, some things to consider first. And be sure to read our introduction to access control systems, also found in our CCTV articles. For now, if you are thinking about
what access control systems can do, first ask yourself the following questions:
How large is the size of your property?

How many people will be using the access control system?

What

type of access control system

do you prefer?

Will your access control system connect to your security, surveillance, and alarm systems?
One way to answer these questions and more is by seeking out an installation team that knows the answers to all of the frequently asked questions in regards to access control. The company should also be able to provide you with additional helpful tips and points to make sure you are really getting the most out of your systems. Contact us at TechPro Security if you have any access control systems Boca Raton FL needs and we will be glad to assist you.
Access Control Systems Boca Raton FL | Functions
The functions of an electronic access control system revolve around one thing, access. Whether you are trying to limit who may enter a building or prevent anyone from leaving a certain area without you knowing, access control can help. Take a minute to read over the three most significant functions people utilize access control technology for.
Controlling Property Access

Gated communities and apartment complexes often utilize keypads or even security booths for access control. The ability to prevent access into and out of your property is especially useful for locations with heavy traffic. For instance, if there are a lot of delivery people that need entry into your property, access control can help you keep track of when they come and go. And strict access control systems can prevent unwelcome visitors from getting close to your building.

Controlling Building Access

Businesses big and small often use the same things first seen at the entrance to large apartment buildings and corporate offices. Many properties have a keypad just outside their property where visitors can either enter a personal identification number (PIN) or use a programmed key card or fob that opens the lock. No longer do you need a doorman or have to press a button whenever someone you trust needs to get into your building.

Controlling Room Access

Any corporate, commercial, or residential building that has an extremely secure room most likely utilizes an electronic access control system. The most advanced access control equipment uses biometric information, such as a retina scan, fingerprint, or facial recognition, to allow people into a specific room. Also, with the right equipment, you can see a log of who comes and goes from your room, in case something unusual occurs that needs to be investigated.
Access Control Systems Boca Raton FL | Additional Uses
Aside from controlling access to and from rooms, buildings, and properties, a new access control system can be linked to your current alarm system to provide alerts to emergency services. For instance, access control works in hand with many alarm systems in an effort to provide theft prevention and smoke, fire, or flood warnings.
Theft Prevention

An alarm or security system equipped with motion detection features can notify you in case of any suspicious activity. If an unwanted visitor comes onto your property during obscure hours, you can set up your system to notify you remotely via a push notification sent to your phone by text, call, or email.

Warnings

If an emergency happens that involves water, smoke, or fire, a connected access control and alarm system will notify your local fire department, police department, or other related emergency services. This could be the difference between dealing with minor smoke or water damage and completely losing your home to a fire. Ask us about our

alarm monitoring services

to help you decide the best way to use any emergency warnings and notifications.
Access Control Systems Boca Raton FL | About Us
TechPro Security is Boca Raton's leading installation team. We specialize in setting up and installing systems of any type, including alarm systems, access control equipment and systems, surveillance systems, security camera systems, and a number of other related projects. Read more about each and every one of our installation services by visiting our installation services page.
Located in Boca Raton, FL, TechPro Security serves the entire South Florida community. We have been sought out as an alarm company in West Palm Beach, assisted those in need of Palm Beach County security installation services, and even offer an alarm or security camera remote video monitoring service.
We stand by and guarantee the work that we do and offer all of our services at a competitive rate. If you are done searching for a solution to your access control systems Boca Raton FL project and ready to get started, click here: Contact TechPro Security.
Facebook | Twitter | Google+ | YouTube | LinkedIn
Access Control Systems Boca Raton FL
Tags: Access Control Systems Boca Raton FL, Alarm Companies West Palm Beach, best security company in South florida, Professional CCTV Camera Installation Companies Boca Raton, security camera installation in south florida, security system installation in miami, security systems in south florida, Surveillance System, surveillance system for businesses


Categorised in: Access Control and Security, Access Control Systems Boca Raton FL

This post was written by Damon Delcoro