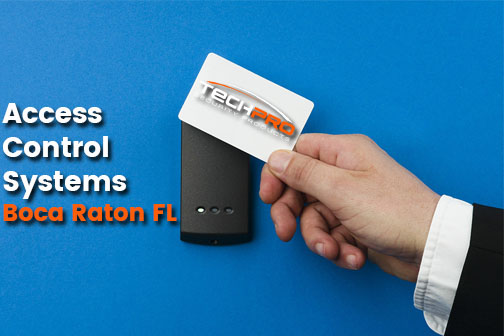 July 17, 2020 2:31 pm
Access Control Installation Components
Protecting your business or residence is important, and one of the best ways to accomplish this is with a professional quality access control installation. It's important first to understand what access control is, and further how it can benefit you in accomplishing your security goals. Access Control is the use of hardware, and software on electronic devices that are installed at entry and exit points that allow the operators to control who has the ability to come and go manually, automatically, based on schedules and more. This is done using hardware such as Magnetic Locks, door strikes, access control boards, and computer software. These technologies should not be installed by a DIY novice, as there are construction modifications that should only be attempted by professional, licensed installers. Read on to learn more about TechPro Security products, and the different access control products we carry and install.
Magnetic Locks:
A Magnetic Lock- or Maglock-is a device installed usually at the top of a door frame that acts as a secondary locking mechanism to the normal bolt lock that would be on a door. The lock is composed of an electronically powered magnet on one side, and a magnetized metal plate on the other. When power is given to the maglock, the magnet and plate seal to each other holding the door closed.
Door strikes:
Door strikes are installed in place of or near the normal bolt of a door. A door strike is a metal cylinder that uses an electronic solenoid to trigger it to mechanically move into place holding the door shut, or release unlocking the door. Strikes come in two varieties, or a hybrid that can switch between, fail-safe and fail-secure. Fail-safe strikes return to an unlocked state when there is no power present- while fail-secure strikes return to a locked state by default when there is no power present.
Boards and Readers:
A major part of any access control installation is the board and readers. The Access control board is the heart of the system. It is a computerized electronic device that receives and sends trigger signals to and from the different door locks and readers in the system. It reacts to received signals based on programming done on a computer over the network which then sends that programming to the board. In order for a door lock to be opened, a signal can be sent manually from the software or by using a reader installed in the system. A reader can be a keypad, card or fob scanner, biometric for thumbprints, or more. A reader will send a signal to the board telling if the request is authorized, or not- and either open the door or leave it locked accordingly.
Techpro: Access Control Installation Done Right
Techpro Security Products is South Florida's number one regarded installer of CCTV, Alarm, and Access control equipment. Access control is important, and if done improperly could lead to costly repairs, or fail to perform its function leading to security issues down the line.
Don't trust just anyone with your security needs;
Let the Pros handle it!
Call Techpro Security Products today for more info, and to set up an appointment: 561-922-8416
Related Media: CCTV Installation in South Florida
Find us on: Facebook | Twitter | YouTube | LinkedIn
Tags: Access Control, access control installation, affordable security systems south florida, Best Security System Installation Services In Boca Raton, door strikes, home security systems, maglocks, Neighborhood Security Camera Systems, Neighborhood Surveillance, security camera installation, security systems


Categorised in: Access Control Equipment

This post was written by Joe Shopsin