May 27, 2013 6:01 pm
Leave your thoughts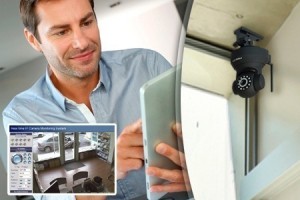 Most people hear smartphone security and they immediately imagine an application or gadget that allows them to protect their phones from being stolen or vandalized from online attackers. Smartphone security goes far beyond what you could ever imagine. You can use this security system as a means combining your home security system and smartphone into something that is unstoppable. When you combine the two units together, it helps to create an immense range of functions for the homeowner. Using your smartphone, you will be able to experience a world of technology in interacting with your home and controlling multiple layers of security throughout your home when you cannot be there.
The most enhanced in security systems allow you to interact with a number of security devices using a single smartphone. From being able to arm your security system at a remote location to being able to check on your children while you are in another part of the country, smartphones provide you with the interaction you need with your home security system in a productive and clever way. As more individuals incorporate smartphone technology into their everyday lives, it will make sense to learn about a few of the different options from which you can choose.
Surveillance Cameras
From a multiple channel system so a nanny camera hidden out of view, many cameras on the market today can be operated with nothing more than your smartphone. When you have one of these cameras installed around your home, you will be able to monitor your child in real time without having to be inside your own home. Several of the various nanny cams allow you to download pictures and video onto your phone or a computer where you can save them or forward them onto other individuals.
Alarm Systems
Thanks to a number of different alarm manufacturers, they have worked to create a variety of different ways to create the features you desire in your smartphone system. Beyond being able to disarm and arm your system from a remote location, some of the units allow you to connect your system with your smartphone without ever having to install a landline phone. When you have this feature available to you, you will not have to worry about the landline being disconnected when someone is attempting to rob you. Since communication between the alarm system and your smartphone is always there, you will have the peace of mind that accompanies having a security system installed in your home.
Applications for Smartphone Security
Smartphone security will help to manage all of the various levels for your security system inside of your home. Some of the various techniques will go beyond that of the home security realm and enter into that of personal security. A mobile security app can help allow you to connect with 15 different loved ones with just a single touch of a key. College students can also use this app to contact campus safety in case of an emergency, but the college will need to be part of the safe campus program and using this app across the board. You can also access 911 at the drop of a hat, so you will always be connected to someone who can help you when an emergency occurs. Thanks to the amazing GPS functions in the system, it allows you to track a loved one that is missing or in danger. As long as the person has this app on their device, it will help locating them a lot easier when faced with adversity.
Smartphone Security and Deterrents
Another vital component to your security system is that of deterrents around the property. Using devices that help the homeowner control the lighting around the property can be easily installed to help deter burglars from entering into your home. Since they are easy to install, you can be up and running in no time at all. They are extremely cost effective, but the benefits they provide will amaze you. Some of these apparatuses only need to be plugged into an electrical outlet, so make sure to check on the installation process beforehand. You can then use the dimmer to illuminate your rooms with a button on the device or you can control it with the use of your smartphone. Not only will this help to provide you with the ability to walk into a well-lit home, but it will also activate remotely as soon as the sun begins to set. Those who pass the area will think that someone is inside of the home thanks to the lights kicking on right when you need them to.
Security Systems You Can Do Yourself
Several companies on the market today are implementing mobile applications for their security systems. Homeowners that make the choice to install their own security system will love being able to access all of the different options on their smartphone that they have available to them at a moment's notice. Beyond being able to operate your security system from an extended distance, you will have the peace of mind that accompanies your new security system while you are away. More users are transitioning into the global market and using their smartphone as the window into their security system. You will have years of peace and well-being thanks to the implementation of smartphones into the security realm.
Tags: best security camera systems for remote monitoring, most smartphone compatible security camera systems, surveillance camera system installation in miami


Categorised in: Surveillance Systems

This post was written by Damon Delcoro