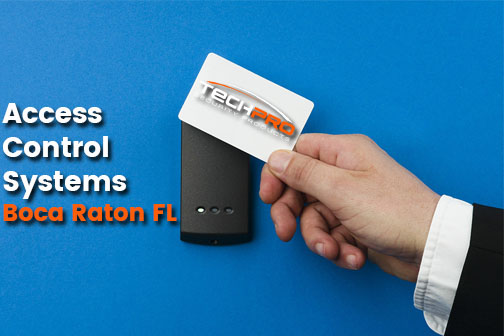 February 27, 2021 11:13 am
Access Control Equipment Installed
Having Access Control Equipment installed at your home, or more likely a business or professional organization is an important and key choice in making sure that location is truly secure. So what is access control, and why should one hire a contractor to have access control equipment installed rather than do one's self? Access Control is the use of hardware, and software on electronic devices that are installed at entry and exit points that allow the operators to control who has the ability to come and go manually, automatically, based on schedules, and more.
The kinds of access control equipment installed on-site you could see will involve a combination of AC control boards, locks, readers, buttons, and computers running the appropriate software all tied to the same network. These devices need to be installed by someone with experience in Electrical, Computer networking, and construction modification among other tech and trade fields. This is why its imperative to Cal TechPro to have any Access Control system installed. Read on to learn more about these systems and what kinds of components are responsible for which functions.
Door strikes:
A door strike is a metal cylinder that uses an electronic solenoid to trigger it to mechanically move into place holding the door shut, or release unlocking the door. These function 'similarly' but not exactly like a deadbolt and are far superior to a deadbolt.
MagLocks
A mag lock is composed of an electronically powered magnet on one side, and a magnetized metal plate on the other. When power is given to the maglock, the magnet and plate seal to each other holding the door installed on closed. Good for heavier doors that need a strong lock to hold them shut.
Boards and Readers:
The Access control system board is tied to your PC network or privatized AC network, as well as every AC device on site. This includes the locks mentioned above, as well as any keycard, keyfob, Pincode, or biometric readers or push-to-exit buttons installed as well.
Techpro: Access Control Installation Done Right
Techpro Security Products is South Florida's number one regarded installer of CCTV, Alarm, and Access control equipment. Access control is important, and if done improperly could lead to costly repairs, or fail to perform its function leading to security issues down the line.
Don't trust just anyone with your security needs;
Let the Pros handle it!
Call Techpro Security Products today for more info, and to set up an appointment: 561-922-8416
Related Media: CCTV Installation in South Florida
Find us on: Facebook | Twitter | YouTube | LinkedIn
Tags: Access Control, Access Control Equipment Installed, affordable security systems south florida, benefits of having a surveillance system, benefits of security systems, best security camera for your business, best security company in South florida, Best Security System Installation Services In Boca Raton, camera, Home Security Camera Installation, home security systems, Infrared Security Cameras, installing security cameras, Neighborhood Security Camera Systems, Neighborhood Surveillance, Neighborhood Watch Cameras, Professional CCTV Camera Installation Companies Boca Raton, Professional CCTV Installation, security, security camera installation, Security Camera Installation Boca Raton, security camera installation in south florida, Security Camera Installations, security camera system, security camera systems, security system installation in miami, security systems, Security Systems Boca Raton, surveillance, surveillance system for businesses


Categorised in: CCTV Articles

This post was written by Joe Shopsin